'New & Improved', A Message From Roger Trageser, Maryland Bass Nation President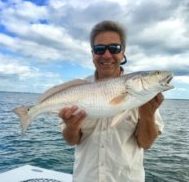 Where to begin.
New web site, new tournament director, new second vice president, new wrinkle in the SQT Trail format, new tournament location, little tweaking with the President's Conference this year. And there are probably a few more I haven't even thought of.
Let's start with web site. Bold look, simpler to navigate and if I'm understanding my web guru Steve Carman correctly (he'll not like me calling him that) a site that the MEMBERSHIP could and should become more involved with. Steve can get you up to speed much better than I can.
Tournament Director. She's back. For the veterans of the family it's a welcome sight to see Cindy Smelgus back in the ranks, for the uninitiated you're going to like this lady. No stranger to this job more than likely she'll be showing us ways to improve our tournaments and I'll be more than happy to listen. Now if she and I can figure out a way to get a few more volunteers to show up then I can jump back on the PA system and give some of you guys a hard time when you don't perform the way you told everyone you would at blast off. Come on guys your family and if you can't give family a hard time who can you give it to.
Dick Berich second VP. Oh boy he has no idea what he has gotten himself into. Or maybe it's me. Give Dick an idea and he's all over it. Smoots Bay reclamation project, prospective member's seminar (following president's conference). Keep it coming buddy. This is the spirit that our organization needs.
Conowingo for Weekend SQT? Whaaaaat? Guys don't tell me we didn't need to shake things up a little bit. I'm a Northern Region guy so I put a bit of time in with my club there every year. Smallmouth bite can be killer. Largemouth are no slouch either. I'll be helping Cindy with this one and I'm really looking forward to it.
So there's a lot of new and hopefully improved. One thing I would really like to see improve is membership input. I know that not every member is looking to fish the qualifiers and that making the state team is not the "be all" for most. This isn't a "give back" request. It's more like a "put in" request. Make it fun. You want to write something about your club do it. Took your kids fishing and snapped a few pictures, I want to see that. If you went on vacation, took a fishing trip and snapped a few photos let's hear about it and see it (like I did, Outer Banks, in the sound, 32" red drum sweet). I think that's my next article) and I plan on dedicating more time and effort to stay in touch with you guys, my family. I'd really like to hear from you too.