Cindy Smelgus Benefit Fishing Tournament
In remembrance of one of Maryland Bass Nations finest members, Cindy Smelgus, it only seemed natural to put together a fishing tournament fundraiser in support of Cindy's family. We couldn't have asked for a nicer day, better food, surrounded by great people fishing for a heartwarming cause – we know Cindy was looking down on us fondly, calling boat numbers, checking livewells, and watching over our tournament keeping us safe and running smoothly.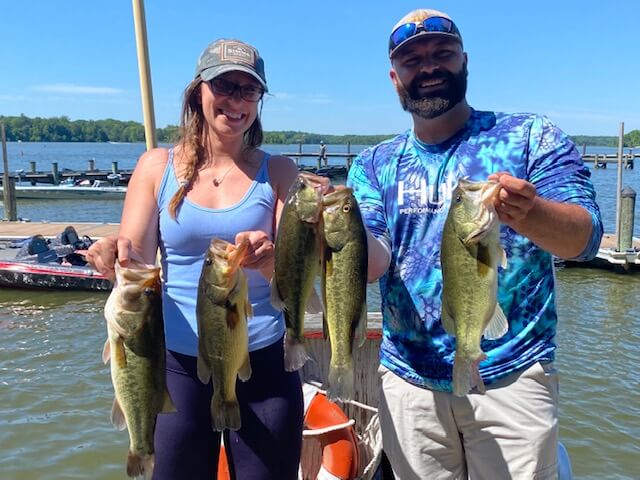 Largely through the efforts of Cindy's family and close friends; Brian Treischman and Tom Bateman, the Cindy Smelgus Benefit Tournament was held on June 5, 2022, at Smallwood State Park. The response from local businesses, fishermen, and benefactors throughout the fishing community was overwhelming and the money raised in support of Cindy's family was inspiring to say the least.
I know we all want to know the results of the tournament, but I would first like to acknowledge the following contributors, thank you on behalf of Maryland Bass Nation we could not have pulled this off without your support!
· Maryland Bass Nation
· Susquehanna Bait and Tackle
· Big Mouth Lures
· Dominator Bait Worx
· Zittle's Custom Baits
· Haber Glasses and Bags
· UMA Lure Co.
· Petes Cycle's
· The Wiseman Family
· The Treischman Family
· The Nutter Family
· The Bateman Family
· The Roselle Family
The tournament results were not for the faint of heart, the Potomac River is fishing well this season and the results proved that once again. With a stacked field, 36 teams in total competing for cash prizes, making sure you were on the sweet spot was essential because the wind made running the river a bit of a challenge. Congratulations to the following top finishers –
1. Wilder/McFaul – (5) 18.70
2. Quader/Fulginti – (5) 18.27
3. Fiorille/Fiorille – (5) 18.13
4. Bronson/Loor – (5) 17.62
5. Loewy/Mozingo – (5) 17.11
6. Houchens/Houchens – (5) 17.04
Ø Big Fish – Gary Bailey – 5.68
Thanks again to Brian Treischman and Tom Bateman for putting on a great tournament. Thank you to Smallwood St. Park for hosting our event and all our contributors, your generous donations made for a memorable event and exciting raffle and 50/50 giveaway. Finally, a special thanks to the Smelgus family, Cindy will always be remembered and held close to The Maryland Bass Nations heart. Until next time, tight lines!