Last Chance Shoot Out Tournament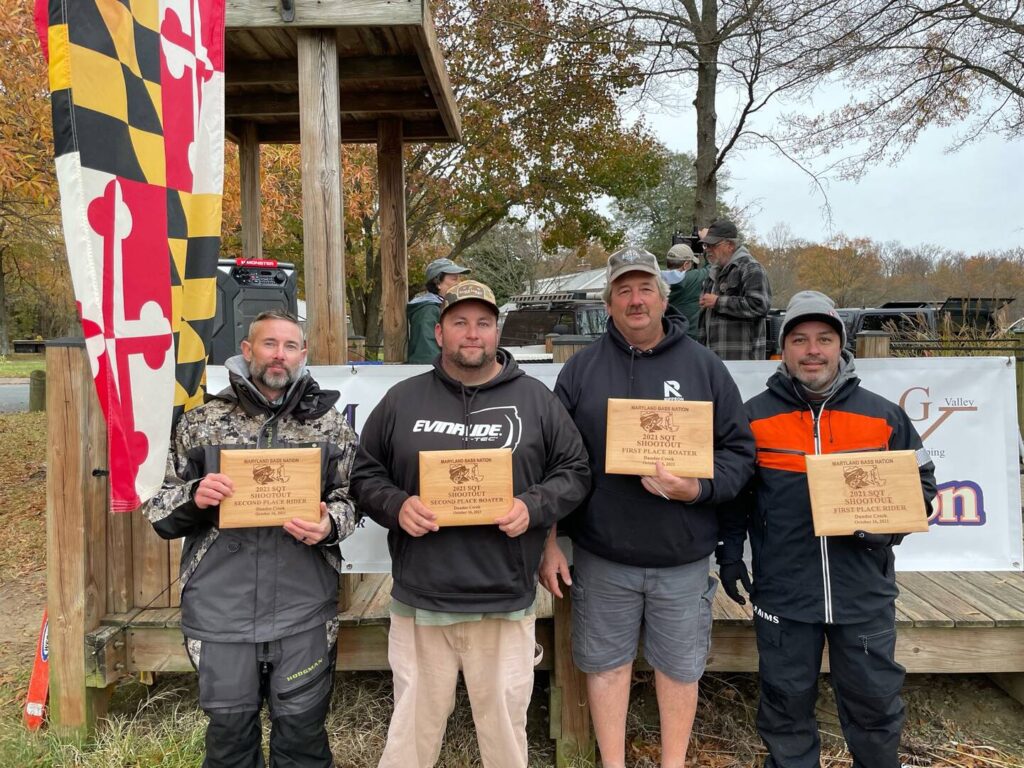 Trieschman and Roselle Load up on the Upper Bay
The Last Chance Shoot Out Event finally took place in November out of Dundee after being cancelled twice due to weather conditions on the Upper Bay.

Brian Trieschman and Mike Roselle finished first and second on the boater side with each bringing massive weights to the scales for their best 5 fish when many struggled. Brian brought 22.38 lbs. to the scale anchored by a 7 pound kicker which was the big fish of the tournament. What an epic day for Brian on the water. Mike Roselle weighed in an impressive 20.46 lbs. for his best 5 for the day. Lloyd Mumford needs to be mentioned also for his impressive day of 15.74 lbs. of smallmouth landing him in third place. Unfortunately for Lloyd, only the top 2 boaters and the top 2 riders qualify for the State Team. However, Lloyd's rider did make the State Team on the rider side of the event. Congrats to Lloyd on a very impressive bag of fish for the day.

Brian said he got lucky which no doubt happens to everyone once in a while during a day of fishing. However, lucky or not, Brian is a very good fisherman. Just look at Brian's track record as far as how many times he has qualified for the State Team. When talking to Brian, he said he had practiced prior to the tournament in the area he fished but, he never really caught that much in practice. Brian made the decision to go to that area the morning of the tournament and the first fish he caught was that 7 pounder he weighed in. He decided to fish the same area all day, rotating back and forth the same stretch several times throughout the day. Congrats Brian on such an epic day of fishing on any body of water.
Mike Roselle finished right behind Brian with 20.46 lbs. backed by a 5 pound kicker. Mike said he ran to an area that had shorelines with some remaining grass in about 2-4 foot of water with adjacent drops that lead to 10-15 feet of water with scattered rock and wood. Everything Mike weighed in came on a 6 foot diving crankbait that he would snap out of the grass and the fish would crush it on a reaction instinct. He also caught a few on a squarebill and a jig. Mike said from 10:00 through the rest of the day, he never got another bite. Congrats to you on a great day of fishing.

David Torres won the rider side with 12.07 lbs. and with a 5 pounder being his big fish of the day. This was David's first qualifying tournament with MD Bass Nation and I am sure it will not be his last. Fortunately for him, he was paired with Brian Trieschman and of course, Brian was on the fish. However, David still had to catch them and he did just that. What a great bag of fish for just a 3 fish limit on the rider side. David seemed kind of reluctant to give me any information about his day with Brian. I think maybe he was afraid of giving something up, maybe something Brian did not want to get out. Kidding, but I get it.

Kevin Maccallini finished 2nd with 6.71 lbs. for his efforts and landing himself a spot on the State Team. Kevin was paired with Lloyd who had a great day, as I mentioned, finishing 3rd on the boater side. Kevin said Lloyd was a good fisherman and a great guy and that they had a blast fishing together. This is great to hear because that is what it is all about. They ran over 30 minutes that cold morning to get to their first spot. When they got there, there was a boat already on the spot, so they went too their second option. Lloyd got into a few fish within the first few casts and filled out his 5 fish limit. Kevin got a few and limited out before 10:00 but, nothing over 2 pounds. Around 11:00 the fish came alive and Kevin said he caught smallmouth on back to back casts and culled about 8 to 10 times. It was a great day of fishing and Kevin said together he and Lloyd must have caught over 20 fish.

Congrats to you guys for what sounds like an epic day on the water. This finishes out the year for qualifying tournaments in MD Bass Nation. Looking forward to what happens in 2022.