MATT AND DICK'S GREAT ADVENTURE
Do you ever wonder how two complete amateurs would handle a trip to a body of water that they never fished under the pressure of a regional BASS Nation tournament?…….. No? Well here it is anyway….
Maryland BASS Nation State Team members and alleged fisherman Matt and Dick prepare for the June 18th – 22nd Eastern Regional tournament at Winyah Bay, South Carolina. They decided to travel on Friday the 15th so that they could get two extra days practice on that unfamiliar body of water. Dick has purchased a new Skeeter and is still learning its operation. He has rented a pickup truck rather than using his Toyota 4-Runner with 200k miles on it to tow the boat. He temporarily keeps his new boat at his friend Scott's house since he and his wife are in the middle of a move to a new home in Delaware. Dick has made hotel reservations for Friday, Saturday, and Sunday at Pauley's Island, SC, about 15 miles from the tournament launch site through a popular website hotel booking company. MBN has reserved hotel accommodations for them for the rest of the week.
Wednesday June 13
4:40 pm: Dick is returning from a Wednesday tournament on the Potomac with Scott. He receives a call from Matt who informs him that due to work commitments he will be unable to leave at noon on Friday as planned but can be ready by 6pm. He suggests that Dick get a room somewhere in North Carolina for Friday since arrival in SC would be after 3am which would not be practical.
4:45 pm: Dick calls Hotels.com to cancel the Friday reservation and make a new one near Fayetteville, NC. Hotels.com contacts the Pauley's Island hotel to make the cancelation for Friday and is informed by that hotel that this cannot be done since they require a 15 days prior notice.
5:25 pm: After several calls to Hotels.com and the Pauley's Island hotel Dick concedes that he and Matt must eat the Friday booking of $120. The Fayetteville reservation is confirmed.
Friday June 15
2:00 pm: Dick's wife drops him off at the truck rental company. After completing the paper work the salesman shows him the truck…. a Super Duty Ford Diesel with 3,000 miles. He was expecting a Ford 150. The salesman explains that they don't have 150s with a tow hitch. The truck has no running boards or step and sits about 4 feet off the ground. Making sure that no one is watching, Dick makes a belly flop on the driver's seat and using the steering wheel manages to squirm into the driver's seat.
2:45 pm: Dick is searching for a Walmart to purchase a step stool so he can get in the truck. After finding one he attaches a short rope so he can pull it back in the truck after entering. Forgetting the second part of this process when leaving Walmart, he drags "Fido" a few hundred feet before retrieving him.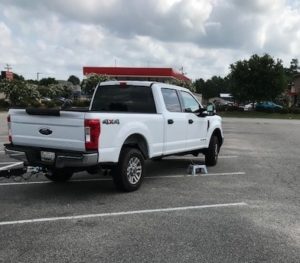 3:15 pm: At Scott's, Dick tries to insert his hitch into the receiver on the truck but finds that the receiver is larger than the square hitch shaft.
4:00 pm: Dick purchases a larger hitch for $59 at a nearby auto parts store and returns to Scott's.
5:00 pm: Scott returns from a local fishing trip. Attempting to attach the boat to the hitch, Dick finds that the new hitch is 2 inches higher than the maximum lift of the trailer tongue jack. He calls the auto parts store to return the newly purchased hitch and learns that they close at 5 pm. Scott remembers that a nearby marina might sell an adapter and calls to find out they are also closed at 5 pm. Scott suggests that there should be a hitch adaptor sleeve somewhere in the new truck. He and Dick unpack the truck and search everywhere to no avail. Scott volunteers the use of his hitch insert on his Super Duty truck so Dick can use his regular drop hitch. The boat is now hooked to the trailer.
5:55 pm: Matt arrives and packs his gear. He ties down his rods on the boat deck while Dick and Scott replace the boat cover. While unfolding the cover, Matt's St Croix Legend spinning rod that protruded over the gunnel is now six inches shorter. Scott lends Matt a spinning rod since it was the only one he brought with him.
6:05 pm: All packed and ready to hit the road. Matt suggests that it would be a good idea to test the lights. Dick says that there should be no problem since both the trailer and truck are new. The trailer lights, brake lights, and turn signals do not work.
6:12 pm: After Matt jiggles the plug to make the trailer lights flash it is determined that the truck terminals are bent. He uses plyers and screw driver to make repairs and after 10 minutes of work, the lights work. Dick deploys "Fido" and mounts up…..Matt and Scott crack up laughing…..
6:30 – 11 pm: On the road. Arrive at first hotel in Fayetteville, NC.
Saturday, June 16
7:00 am: Dick and Matt leave for Winyah Bay.
10:05 am: Arrive at Waca Watchie Marina for launch. Matt readies rods while Dick preps boat. Trim switch not working to remove motor brace. Dick checks master power switch…ON, checks dash power switch…ON but no light. He tries ignition…nothing….not even a click. Starting battery dead. Matt checks terminals….all tight. Dick says boat was plugged in at Scott's from an outside receptacle and should be fully charged. Expletives kept at low level since young children are in parking lot.
10: 20 am: Matt and Dick discuss options. Since the boat was on a charge at Scott's, they speculate that the on-board charger may be faulty. They decide to find an electric outlet to get a reading on the trolling motor batteries and charge up. Dick suggests that they go to hotel, plug in the boat, relax and let the boat charge. Matt repacks gear.
11:00 am: Dick checks confirmation paperwork for address of hotel and enters it into GPS.
11:20 am: Arrive at hotel at address on printed confirmation. Gated entrance with guard who says, "You can't take the boat in here." After showing the address on the confirmation to the guard, he says, "There is no hotel here." Expletives out loud since no children nearby.
11:25 am: Dick calls the phone number of the hotel and asks for address. While getting correct address from the receptionist, Matt suggests checking the reservation. After two minutes, receptionist returns and says, "your reservation was canceled." Dick relates his attempt to cancel only Friday but not Saturday and Sunday. He noted that the hotel would not accept the cancelation anyway due to the passing of the 15-day window. The receptionist calls the manager for assistance who will contact Hotels.com for clarification. She will call back in a few minutes. Meanwhile, Dick calls Hotels.com to find that they did not cancel the reservation since only the hotel can do that.
11:26 am: The Pauley's Island Hotel manager calls to confirm that the reservation was canceled and apologizes for the mix up. Dick asks for another room. She says that they only have a four-room suite available for $545 per night. Dick declines the offer and calls Hotels.com for another option. Nothing is available locally, so they offer to widen the search. They will call back.
11:45 am: Matt and Dick regroup and decide to find a power receptacle to solve mystery of non-functioning on-board charger and dead battery.
TO BE CONTINUED….and it gets worse….see next month for Part 2.