Smoots Bay – National Harbor Project Completed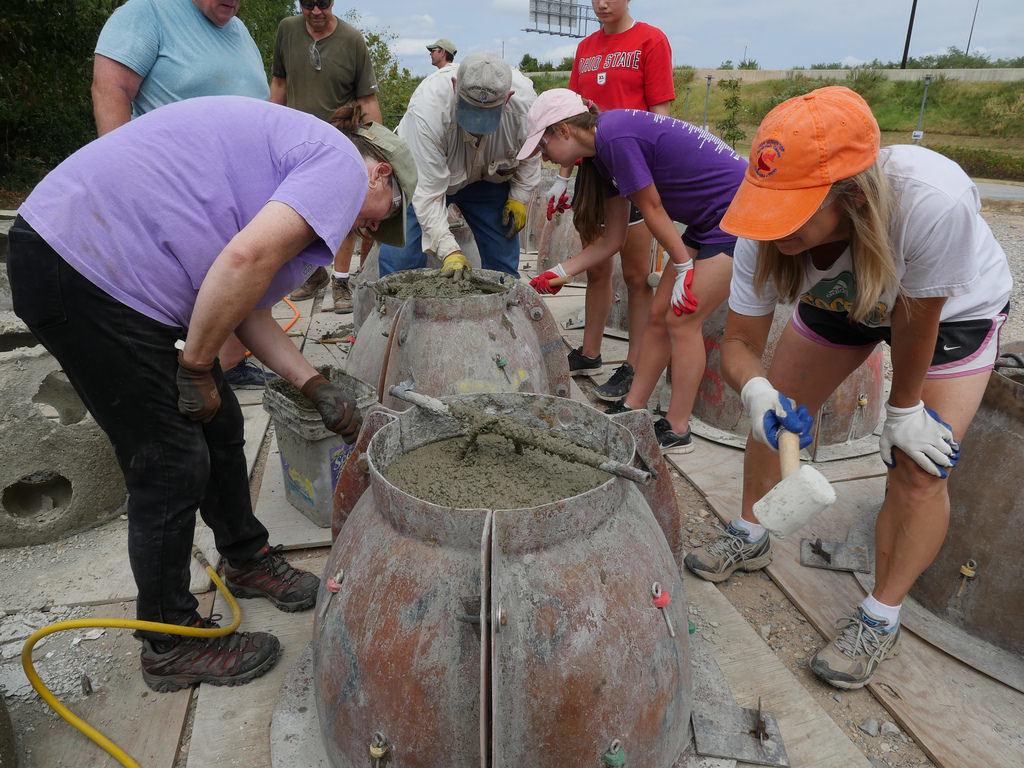 The Maryland Bass Nation completed Phase 2 of the Smoots Bay – National Harbor Fish Habitat Placement.    The placement of 12 wooden fish structures under Phase 2 added to the placement of 80 concrete reef balls under Phase 1 last fall.   The wood structures are triangular units of 4 to 12-inch diameter, 8 to 12-foot-long hard wood logs joined with galvanized steel all-thread bars with smaller pieces attached.   They are anchored with three to five 200 lb cast-concrete weights attached with galvanized steel cables.  The units weigh between 900 and 1,600 lbs each.   The wooden fish structures were placed in 4 to 6 feet of water at low tide to provide shelter for spawning bass.  The most of the concrete reef balls were placed in 7 to 12 feet of water to provide deep water structure.
The project will provide fish habitat to replace lost SAV in the Bay.  The bay's southern exposure, low current, clear water, and gravel bottom offer ideal spawning conditions for bass.  DNR released 1,600 juvenile bass in the bay last year and will monitor the bass population in the future.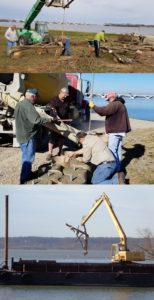 The $20,000 project was funded by a grant from the Fish America Foundation and donations from National Harbor, and the Maryland Artificial Reef Committee (MARI).   Volunteers from the Chesapeake Bay Foundation, MBN, and the MD DNR constructed and placed the reef balls in 2016.   MBN volunteers for the construction of the wood structures and concrete anchors included Roger Trageser, Steve Chaconas, Frank Arthur, Scott Sewell, Darwin Poler, Greg Ledwell, Brian Trieschman, John Redman, Fred O'Neal, Paul Gietka, Dick Berich, Tony Demski and Brittany Jean Demski.   National Harbor provided the fork lift operated by Keith Payne.   The barge and crane were provided by Melka Marine, Inc. of Alexandria, VA.
Other habitat enhancement projects will be planned in the future.   Look for articles about the Smoots Bay Project in upcoming Bassmasters magazine and BASS Times.