Young Guns Sams And Duarte Head To Nationals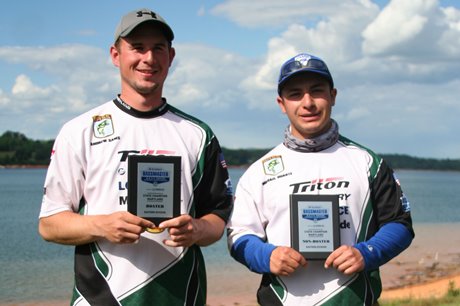 With the inaugural 2016 BASS Eastern Regional Qualifying tournament in the books the Maryland Bass Nation will be proudly represented at the BASS National Championship by two young men who have come up through the ranks of our youth program to reach that level that many more seasoned MBN anglers have longed to achieve.
Boater Andrew Sams from Team Outcast finished three days of competition with a weight of 31 pounds and 3 ounces. Out of a field of over 170 anglers, Andrew's final tally had him placed 35th overall.
Non boater Michael Duarte, also with Team Outcast, racked up a weight of 23 pounds and 12 ounces and placed in the top ten of his field at 6th place.
Andrew Sams & Michael Duarte
Both of these young and accomplished anglers will be heading to the BASS National Championship. The location and date for this event has yet to be announced.
Andrew will be fishing for one of the three Classic positions along with a package that includes an Elite berth, paid entry to a choice of a Bassmaster Open series, a prize boat and the "Nation's Best" package featuring the use of a wrapped truck and boat for a year.
Michael will be fishing for the Memorial Trophy, paid entry to a choice of a Bassmaster Open series, a prize boat and a Bassmaster Classic marshall spot.
The team overall performed well finishing a respectable 6th out of eighteen with a total team weight of 264 pounds and 11 ounces.
Photos should be heading to our gallery soon.