SQT 1 Highlights – Michael Nutter and Joe Puller Win the first SQT on the Upper Bay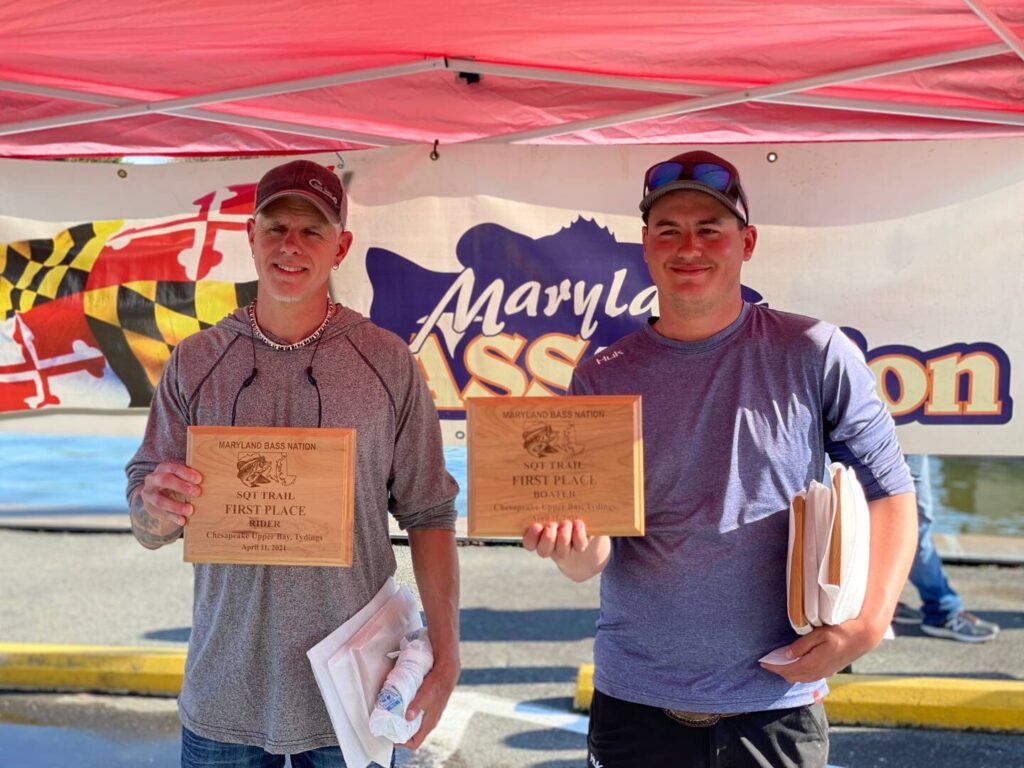 Michael Nutter won the first SQT Trail tournament as a boater on the Upper Bay on April 11th with a 5 fish limit that weighed 19.58 pounds. Michael said that he tried to start the day out on the flats but, the wind was blowing so much that he could not keep the trolling motor in the water. He had to abandon that spot and he bounced around in the Northeast for a few hours with no luck. Once the wind settled, he got back out on the flats and immediately caught his 2 biggest fish on a chatterbait. Michael then went through a lull for an hour or so. He picked up a creature bait and started dragging it through the grass and got 4 more bites and was able to cull one time with about 30 minutes left before check in.
Justin Bronson finished 2nd on the boater side with 16.73 pounds and the big fish of the tournament with a 6.95 kicker. Justin said that he caught one fish in the morning on a crankbait but, as the tide slowed down, he could not get another bite. He said he had to slow down and fish really hard in areas that he knew had fish. Once the tide turned back around and got going, he caught the 6 -pound big fish of the tournament. Justin continued grinding in the same areas to catch his 3rd and 4th fish. He lost his 5th fish halfway to the boat with about 20 minutes before weigh in. Justin fished a mix of rocks and wood with a black shakey head and working a red squarebill.
Andrew Sams claimed third place with a 5 fish limit of 14.97 pounds.
Joe Puller won the rider division with a 3 fish limit of 11.9 pounds. Joe said that his boater and he had not fished on the Upper Bay yet this year. He said that he and his boater started out fishing the Susquehanna for a while and did not have any luck. We decided to fish some bays to see if the fish had moved swallow but, we only caught one small fish. Around 11:30 they decided to fish some deeper rocky areas. Joe said he caught 2 nice ones right away and lost another one. They worked a couple other areas and Joe said he was able to catch his 3rd keeper. After continuing to fish the same area for a while, Joe was able to catch another fish about 4 pounds which called out a 3 ½ pound fish. They made another move and Joe caught another fish about 4 pounds. Joe and his boater wanted to catch fish on fast moving baits but, they could only get bit on finesse baits. Joe ended up catching his fish on a Strike King Rage Bug. Joe said he wanted to give a big thanks to his boater Jon Blaine.
Martin Payne finished in second place with 9.61 for his limit of 3 fish. Martin said his day began with a bit of a boat ride. The 2 spots that his boater wanted to fish were occupied so when they arrived at the 3rd spot the wind had changed direction and it had trashed the area. When they arrived at the 4th location they each caught a keeper quickly. Martin caught his first fish slow rolling a spinnerbait. They fished the area a few more hours and only caught short fish. When they move to another spot Martin said that he had made a color change on his chatterbait and caught his 2nd keeper. He said he caught his 3rd and best fish on a chatterbait at the last spot they hit with about 20 minutes of fishing time left. Martin said that this is his first time fishing the full SQT Trail although he had filled in as a substitute for 2 events 4 years ago.
Steven Davis took 3rd place with his best 3 fish weighing 9.36 pounds.
Sounds like most of the top finishers caught their fish later in the day. I assume that was the case considering the weather was not the best in the morning at the start of the tournament. Congrats to the top finishers in each division. Next up, SQT stop number 2 on May 16th out of Smallwood State Park.