2015 High School Championship, Potomac River, October 18th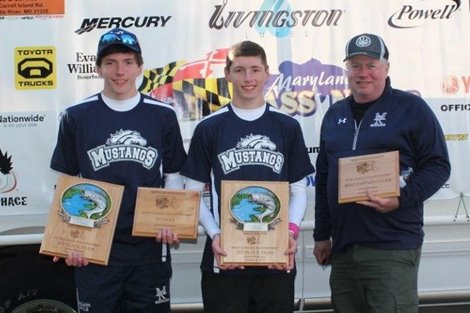 On October 18, 2015, the 3rd Annual Maryland Bass Nation High School Team State Championship was held, launching out of Smallwood State Park.
Twenty-one teams, representing eight high schools, participated in this year's tournament. Those high schools include LaPlata, Linganore, Marriotts Ridge, Saint Mary's, Sherwood, Smithsburg, Southern Garrett, and Sparrows Point.
The weather was what you would expect for a cool, crisp Fall day, with temperatures in the morning hovering in the 30s with a slight breeze, which picked up quite a bit as the day went on.
The 2015 MBN High School Team Champions are from Marriotts Ridge High School – Ian McGann and Riley McGann brought a five fish limit to the scales, weighing 14.20 lbs. (They also took big fish for the tournament at 3.51.) The boat captain/coach for McGann/McGann was Tom Barlow.
The second placeteam of Devan Hammerick and Austin Smith, from Southern Garrett High School, also had a limit of five fish, weighing 12.93 lbs.; their boat captain/coach was Garrett Hoffman.

Rounding out third place, from Linganore High School, was Tyler Wallace and Ryan Appleby, who brought in four fish, weighing 9.08 lbs. Brian Treischman was their boat captain/coach.
The Maryland High School Program is growing steadily each year. In addition to the extra teams fishing the tournament, this year's spectators were the biggest one yet. I would like to thank all the people who came out to support our youth.
Thanks also go to Tom Cole for the two Ardent bait casting reels that went to the winning team.
Special thanks to Rachel and her mom for putting all the tackle bags together, Paul and his crew for cooking all those burgers and hot dogs, and Roger, Don, Lisa, June and everyone else who helped with the weigh-in. I truly appreciate the help, without which such volunteers, the event couldn't and wouldn't be possible.
There were a total of 49 keeper bass caught during this year's tournament, with a total weight of 94.83 lbs.
And last, but not least, thanks to all of the boat captain/coaches for donating your time, boats, and support/advice. You guys are the greatest!
The High School Championship results and be found here: http://www.mdbass.com/docs/2015HighSchoolChampionshipResults.pdf