2019 MR BASS, A TOURNAMENT SHOWCASE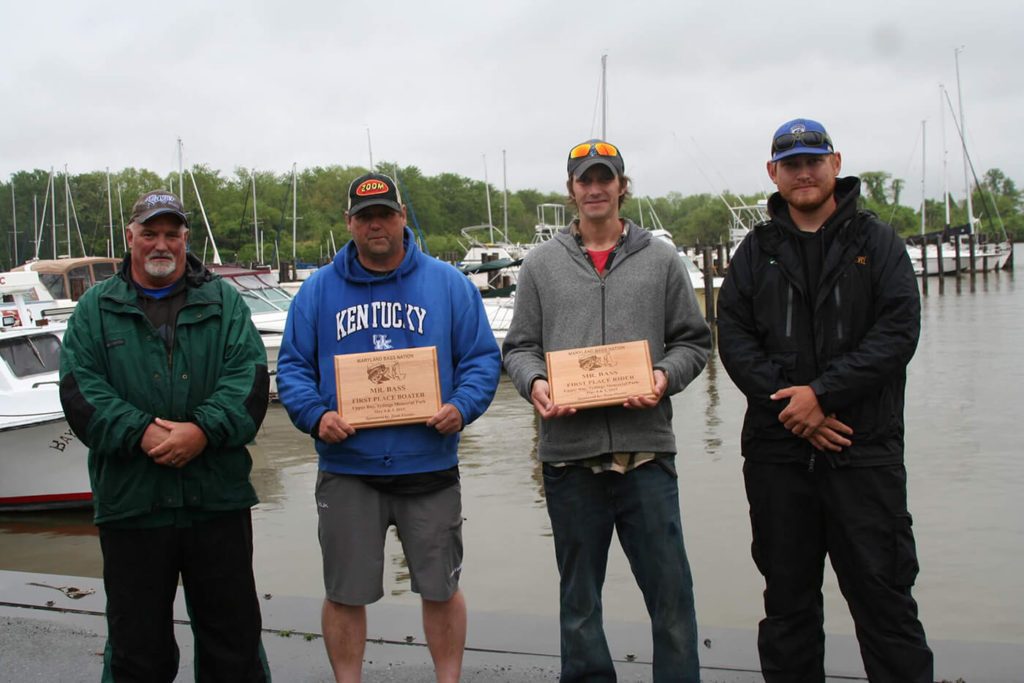 Scattered showers on Saturday morning gave way to a pleasant afternoon but Sunday's rain seemed relentless. While the weather did not cooperate 100% of the time the fish sure seemed to. It's been quite some time since we've seen this many big bags and big fish caught in a single Maryland Bass Nation tournament. Right place, right time.
Chuck Doran


Charlie Clifford


Tim McGlenn
Leading the charge in the boater division was Mike Keyser from Deep Run Bass Club. Mike had a first day weight of 18.45 lb. which was anchored with a big fish at 6.07 lb. He added another 14.1 lb. on day two for a total weight of 32.5 lb.
Close behind was Central Maryland Bassmasters Steve Lapp. Steve checked in day one with 14.39 lb. and followed up on day two with a nice 17.25 lb. bag to secure a second place finish with 31.64 lb.
In the rider division Travis Metz from Team Outcast posted a first day weight of 11.19 lb. and scored 12.16 on day two for a winning total weight of 23.35 lb.
Another Deep Run Bass Club angler, Justin Bronson, took second with a first day weight of 8.57 and a nice three fish second day weight of 13.44 lb. giving him a total of 22.01 lb. and a second place finish.
All four of these gentlemen will be the first group of anglers to begin the foundation of our 2020 State Team.
Lunker payouts were the provided "host gift" for both the boater division and the rider division. On the boater side Tim McGlenn in Bass Busters of Maryland had the big fish of the tournament with 7.76 lb. beauty while Hub City Bassmasters Charlie Clifford did the rider side proud with a 7.61 lb. hawg.
This was quite a show. Two Hundred and fourteen fish were caught for a total weight of 670.65 lb.
Forty-seven of those fish were five pounds or better. Biggest five fish limit belonged to Chuck Doran from Tiderunner Bassmasters with 23.82 lb. while Charlie Clifford had an amazing 15.83 lb. with his three fish.
Team Electric sponsored this event and provided a cash award of $100.00 each for the winning boater and rider and $50.00 for each of the second place finishers.
A last minute add on event to the MR BASS tournament was the 2019 Maryland Bass Nation College Qualifier that would place a team at the 2019 BASS College Championship held in August on Lake Chickamauga in Tennessee. Currently only two teams from the University of Maryland (UM) were signed up to participate but we're hoping to see that number grow.
The event had Emma Mullinex and Stephen Lafleur competing against James Grace and Jimmy Freeland. Emma and Steve won the event with four fish and 10.30 lb. James and Jimmy had engine issues and were unable to get back to the scales before being disqualified. Unfortunate since they had a nice bag with one over 6 lb.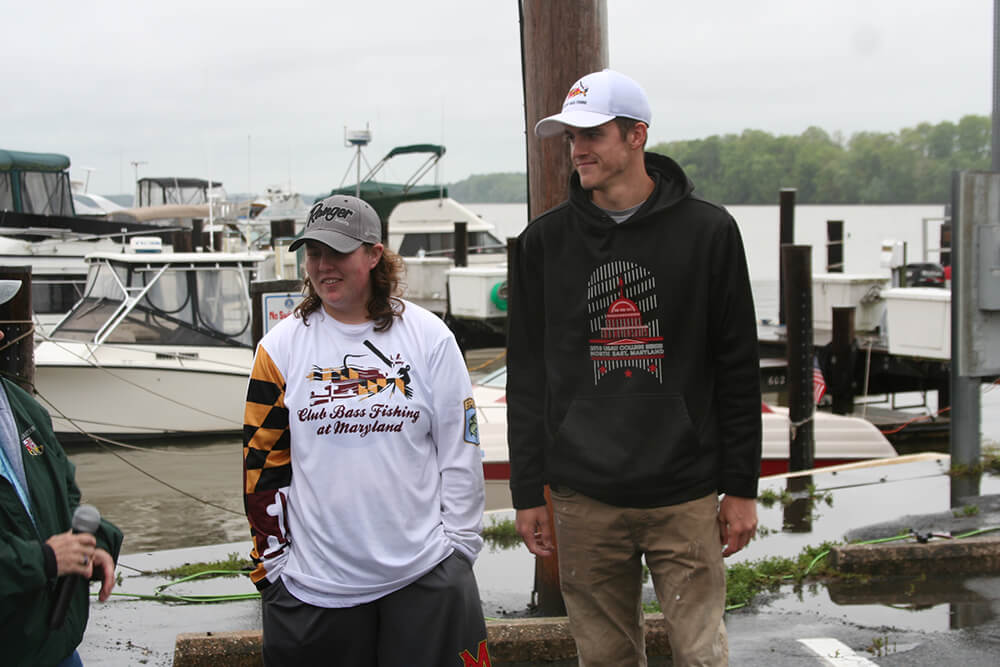 We had helpers!!! Thanks to bump tub master Ray Jachimski along with Rich Martin, Rich Weldon, Darwin Poler, Matthew Cross, Mark Silvia and William Warren and daughter for their assistance. And of course Tournament Director Cindy Smelgus and her friend in tow MaryBeth Frye.
And I want to give a shout out as well to Tydings Park Manager Steve Young who helped us with the set up locations which could not have worked out any better.