2020 Mr. Bass Event won by Rodney Eshelman and Tim McGlenn
The 2020 MBN Mr. Bass Event had to be rescheduled due again to the Covid- 19 pandemic. This event is usually a 2-day event but, this year the event was reduced to one day because of the pandemic. The tournament took place out of Smallwood State Park on Sunday June 14th.
Rodney Eshelman won the Mr. Bass Event on the boater side with a total weight of 13.39 pounds and also took big fish honors with a 5.12 largemouth. Rodney said he caught all his fish in Chicamuxen and Quantico Creek. Most of Rodney's fish were caught using a swim jig that he hand-ties himself. Two of his better fish also came on a lizard and a chatter bait. Rodney has been fishing our Mr. Bass event regularly for many, many years and this year he put the winning weight together to claim the top spot. This will be Rodney's first year on the State Team as a boater. Congratulations Rodney, I know this means a lot to you for finally getting that top spot in this event.
Tim McGlenn took second place with a winning weight of 13.0 pounds. Tim said he had planned on going to a certain spot that he had caught a good bag of fish just before the start of the tournament in practice. The morning of the tournament Tim said when he got to his spot to fish, the wind had changed direction and completely trashed the spot he had planned to fish. Tim regrouped quickly and decided to fish two other locations on the river that had produced for him in past experiences. Tim said most of his fish were caught on a swim jig and flipping a variety of soft plastics. This is Tim's first time on the State Team. Congrats Tim, I know Tim has been fishing both our SQT Events and Mr. Bass for several years now.
Joel Schaefer from Hub City Bassmasters just missed making the State Team by finishing a very close third with a total weight of 12.93 pounds. This was Joel's first time fishing any MBN Event from my club. Joel fishes the Lower Potomac quite often but, he had boat issues in practice on Friday before the event and did not get to practice much. Fortunately, Joel got his boat fixed the next day and was able to fish the tournament and he had a great day. Joel said that he fished in Quantico Creek all day and caught most of his fish on a Texas rigged speed craw. Great job Joel and hopefully I can talk you into fishing more MBN Events.
Kevin Willinghan and Norm McCord win Rider Division Mr. Bass
Kevin Willinghan won the Rider Division with 7.64 pounds for his best 3 fish. Kevin and his boater fished the main river just outside of Mattawoman Creek. He caught his fish on a green chatter bait and they caught a total of 18 keepers. Kevin said he also tried a 10" worm but, he only caught small fish on it. This was Kevin's first chance fishing Mr. Bass after finishing 2nd many times in his club on the rider side. Congratulations Kevin on making the State Team for the first time and getting the chance to fish for the first time from your club in this event.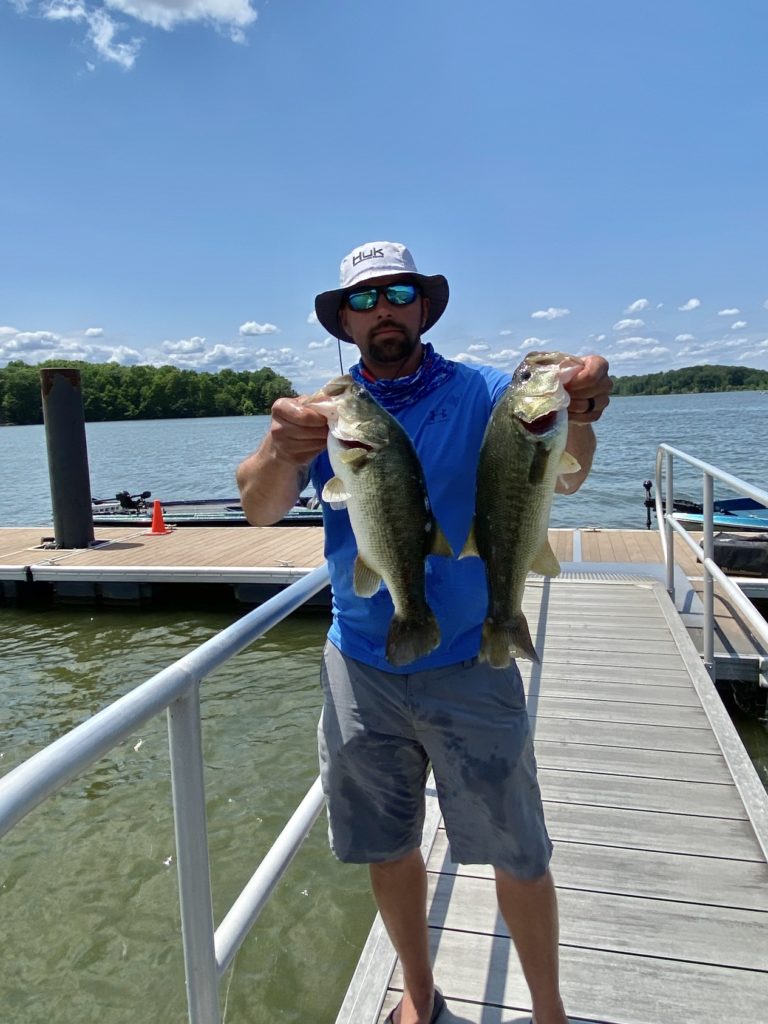 Norm McCord took second place with a 3 fish limit of 7.15 pounds. Norm said he got the chance to pre-fish with his paired boater on Saturday and the did very well in practice catching good fish with swim jigs and topwater. However, Norm said Saturday was a different story because the fish would not eat a swim jig or chase topwater. Tournament day they had to slow down their presentation because the fish stopped chasing. Norm caught most of his fish on a Texas rigged brush hog but 2 of his best fish came on a speed worm. He said they spent the entire day in Mattawoman Creek. Norm just started to get into bass fishing after Striper fishing for many years and so this is his first time on the State Team.
Justin Bronson ended up third by finishing with 7.14 pounds. Unreal how close that finish was between 2nd and 3rd place. Justin has been on the State Team many times since fishing the adult side right after he finished fishing in our High School program not so many years ago. Justin fished with Rodney Eshelman who won the boater side. Interestingly, Justin made the State Team last year in the Mr. Bass event also out of the back of Rodney's boat on the Upper Bay.
I want to thank Cindy for another successful and smoothly run tournament. Big thank you also to all those that came out to help Cindy with this event: Jon and Kelly Blaine, Rich Weldon, Randy Elliott, Rich Garner, Don Eney and Darlene Platt. Also, thank you Kelley for taking all the photos at the weigh in. I want to also thank our co-sponsors for this event: Blaine Windows and Doors and Green Valley Landscaping.
Doug Zittle