Choptank River Hosts Maryland BNC Qualifier
With the unfortunate cancellation of the 2020 Northeastern Regional states were left with the responsibility of qualifying their own champions to represent at the Bass Nation Championship (BNC) on Pickwick Lake in November.
In an effort to create a more level playing field the Maryland Bass Nation Tournament Committee selected the Choptank River as the site for the first (and hopefully only) Maryland BNC Qualifier.
This event began with official practice days August 17th and 18th and competition days on the 19th and 20th.
Weather was perfect and with a slight adjustment to launch and weigh in times a more suitable tide was put in place.
Day ones weigh in had Mike Duarte leading boaters with a five fish limit for 10.04 lbs. Steve Lapp was second with five fish and 8.19 and Paul Gietka third with three fish and 7.42.
On the rider side Justin Bronson was the day one leader with two fish for 5.99 lbs. Kyle Slomba had second with three fish for 3.81.
Paul and Kyle put it in gear on day two. Paul caught his five fish limit for 11.74 and a total weight of 19.16 while Kyle limited with a three fish bag weighing 8.72 and a total weight of 12.53.
Paul Gietka and Justin Bronson split big bass money with twins of 4.76 lbs. both caught on day one.
Paul has represented Maryland at multiple BNC events but this is a first for Kyle. Good Luck Gentlemen.
All in all the Choptank fished very well and most of the contenders were pleasantly surprised with the results.
This is sure to be food for thought as the MBN considers it's 2021 tournament schedule.
As usual this would not have come off as smoothly as it did without our dedicated Tournament Director Cindy Smelgus. Cindy was providing assistance all through the Regional process but when the situation demanded the states direct input she pulled it together and made it look easy.
I also want to give a "thank you" shout out to Brian Barnes for his assistance with weigh in.
Paul and Kyle have provided some details on their wins.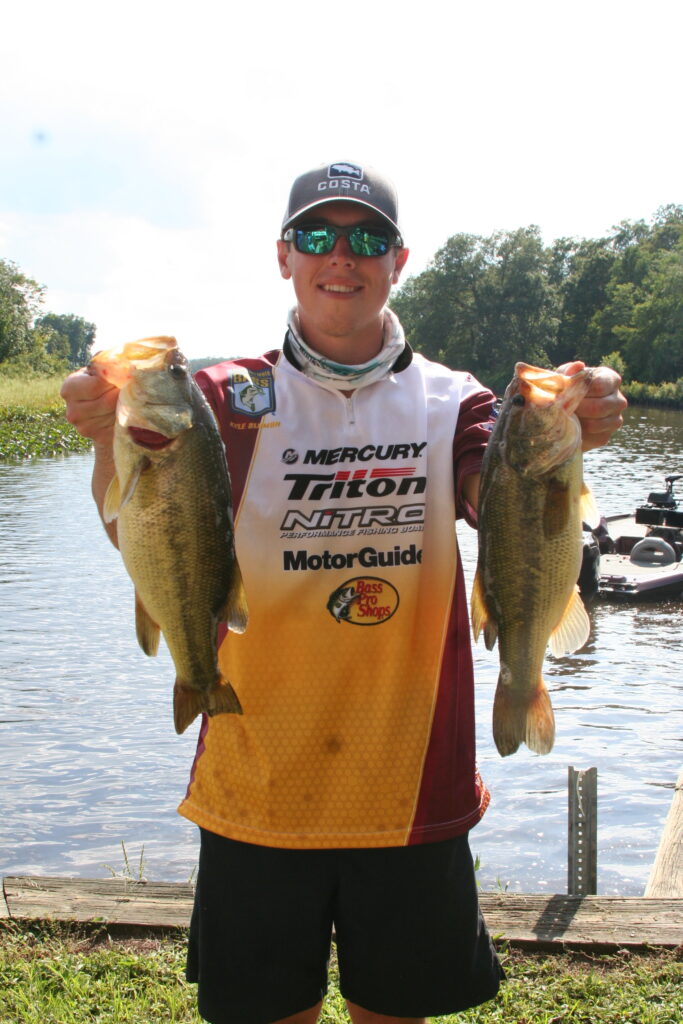 The gameplan that both my boaters had were very similar. We started with pads, then moved to fish wood. My first day with Steve started out slow. He developed a good flipping pattern and caught fish all day. I couldn't buy a bite, but ended up catching a small limit to finish the day.

My second day with Jim started out rough. I broke 2 rods and missed 3 blowups on a buzzbait. I caught a few shorts on a senko, then switched up to flipping a bigger profile creature bait. I think that was the key to getting the bigger bites. Jim and I caught fish pretty much all day.

Thank you to both of my boaters for giving me plenty of chances to catch fish.
MBN made a good decision to find a place we hadn't fished in a long time to try to level the playing field and I like fishing the Eastern Shore rivers, so looked forward to fishing the Choptank again after at least ten years of not fishing there. I haven't fished all year and had to borrow a trolling motor just to compete. I took my time getting on the water the first practice day because of the morning high tide and put in a half day mostly riding around remembering what everything looked like and how to get into different places. We did fish some once the tide got out and shook off quite a few fish. The ones we did hook were very nice fish in the 2 and 3 pound range, so it was great to see that the river had recovered from the virus fish kills of years ago that had really hurt the Choptank. I got off the water a little early to go buy a trolling motor I found on the internet, so I'd have a 36Volt motor to help fight the strong tidal current. We slept in a bit on the second practice day again to wait out the high tide, but didn't get nearly the number of bites the second day. My experience with the Eastern Shore rivers is that the low tide is key with the bulk of the catch happening with the water out and the rest of the day usually doesn't matter too much. I don't really pay too much attention to specific spots and just try to fish based on what the tide is doing and it usually works out for me. Practice seemed to confirm my plans, so I was ready to give it a go in the tournament. I didn't catch anything for the first couple of hours of the tournament, but then caught the tournament lunker (tie) of 4.76 lbs as my first fish of the morning. That one came off wood on a crankbait. A short time later I caught my next keeper off some rocks on a creature bait. The water was still up pretty high, so I felt like I was in great shape with the real fishing time still to come. I waited until 11:30 to try to give the water time to move out before really hitting the areas that I thought were going to pay off. The water got right and we got to fish everything I wanted to, but ended up mostly catching short fish during the prime tide. I managed only one keeper on a creature bait the rest of the day even though the conditions should have been perfect for catching fish at the end of the day. I caught 3 keepers for 7.42 to put me in fourth place going into the last day. The consensus after the first day was that everyone had experienced the same thing: the fish bit early and then quit even though the best tide was at the end of the day. I had a hard time believing that and don't really recall that happening in the summertime on the Eastern Shore, but it definitely proved to be the case for the field on Day 1. For Day 2 I decided to try out the high tide theory and give two areas a try that I wouldn't normally fish on high water. If they didn't bite, I'd go back to fishing normal high tide areas and revisit the low tide areas once the water dropped. It turned out to follow the same pattern as the day before and I started catching fish right away. I focused on wood cover most of the day and caught my fish on a mix of chatterbaits and creature baits. The fishing definitely got tougher as the day went on even though the tide was getting lower. I ended up with 11.76 to take the win. I'm looking forward to fishing my third National Championship and second one on Pickwick Lake. I'm hoping to be able to use my experience from last time to focus on the productive patterns and areas of the lake. I want to thank all of the sponsors and volunteers of the MBN for the opportunity to go the National Championship and providing us the pathway to get there. The MBN did a great job of finding alternate plans with the late cancellation of the Regional and our Tournament Director conducted a smooth and safe tournament. I'd especially like to thank the local sponsors who have helped us out this year including Blaine Window & Door, Green Valley Landscaping, and Team Electric. It's very nice to see our own members sponsoring our organization and it's also nice to see the Choptank healthy again.