Winegardner, Sams, Davis and Clifford make the State Team at the Last Chance Shootout Event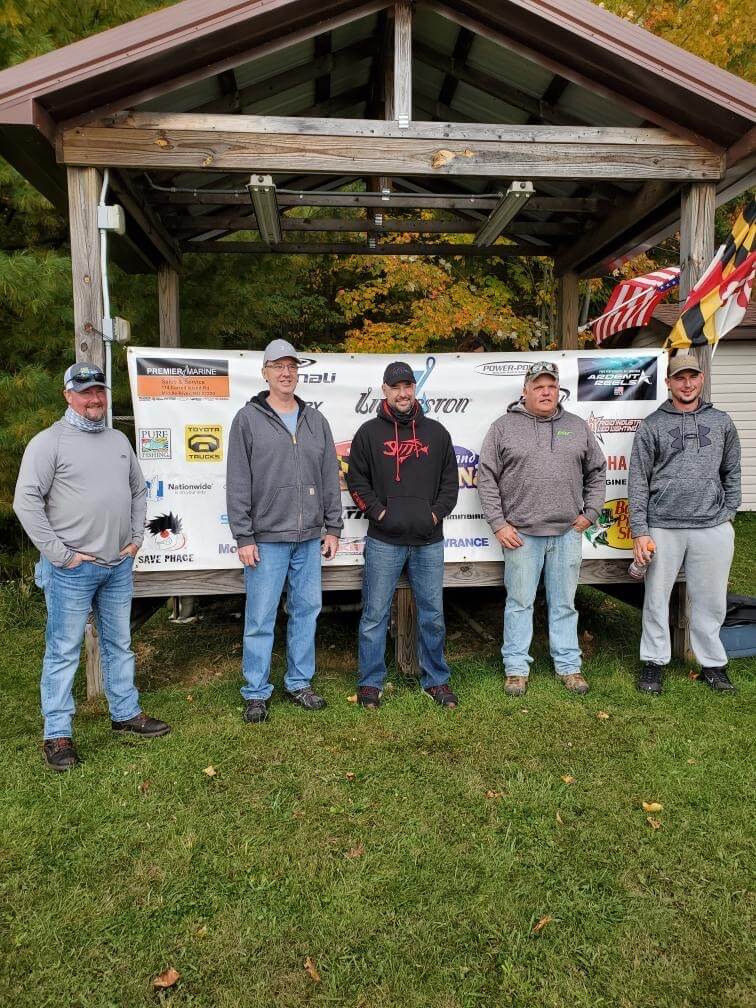 Brett Winegardner won the Boater Division in the Last Chance Shootout at Deep Creek Lake with a mammoth 16.71 lb. bag and also had the big fish of the Event with a 5.11 pound largemouth. Brett said he started out fishing grass with a buzz bait and had his limit by 9:00.
The rest of the day Brett switched to fishing grass and docks with a worm and a jig and culled throughout the day. Congratulations Brett for making the State Team again and catching such a large bag for Deep Creek Lake. Brett has been on the State Team many times.
Andrew Sams placed second in the Event with 12.28 pounds. Andrew said that he ran to the South end of the lake expecting to fish docks only to find out that when he got there the docks were either pulled out or the water was too low to fish where he wanted too. He said he scrambled around a bit for the first hour until he found a stretch of docks that had some fish on them. Andrew caught his first keeper on top water and his second fish came on a Senko under a dock. After his first two fish he ran a mix of shallow docks and rocky banks. The 3rd and 4th fish for Andrew came on top water and his 5th keeper was caught under a dock again on a Senko. Once he caught his limit of fish, he fished every dock he could that he had caught fish on in the past. Andrew culled fish several times during the day and around noon he caught his kicker fish – a 4 pounder under a dock. Andrew has also been on the State Team many times.
Brian Trieshman ended up finishing a very close 3rd place with 11.97 pounds.
The Rider Division was won by Steven Davis with 6.36 for his three fish limit and he also won big fish on the rider side with a 4.52 lb. kicker. Steven said that he struggled to catch fish in the morning. All of Steven's fish came later in the day. Steven's big fish was caught with about 45 minutes left before weigh-in time. He said all his fish were caught on a Senko. Congrats Steven for making the State Team again.
Charlie Clifford finished in second place with 5.94 lbs. and one of his bigger fish weighed 3.8 lbs. Charlie said his boater Randy Elliott fished spots that he wanted to fish the first half of the day and then he took Charlie to spots that Charlie liked to fish the rest of the day. Charlie said he caught fish throughout the day throwing a top water Pop R. mainly on lake points. Congratulations Charlie on making the State Team.
I would like to thank Jon Blaine for sponsoring this Tournament through his Company Blaine Windows and Doors. This is the second Event that John has sponsored.
I would also like to thank Cindy and her team for running the tournament. Special thanks also to John Brewer for his help at the Event and also John spent time getting the pump up and running for the Event, even going as far as running to the hardware store to get parts to fix everything. I cannot thank you enough John for your help at this tournament and many others in the past.
It was also rewarding to see that we had 22 boats in this event, especially since this is only the second year trying out this new event that took the place of the original 2- day weekend event. Thanks to everyone who supported this event. Let's keep it going.
Doug Zittle