The 3rd SQT Trail Event won by Brandon Pyles and John Redmond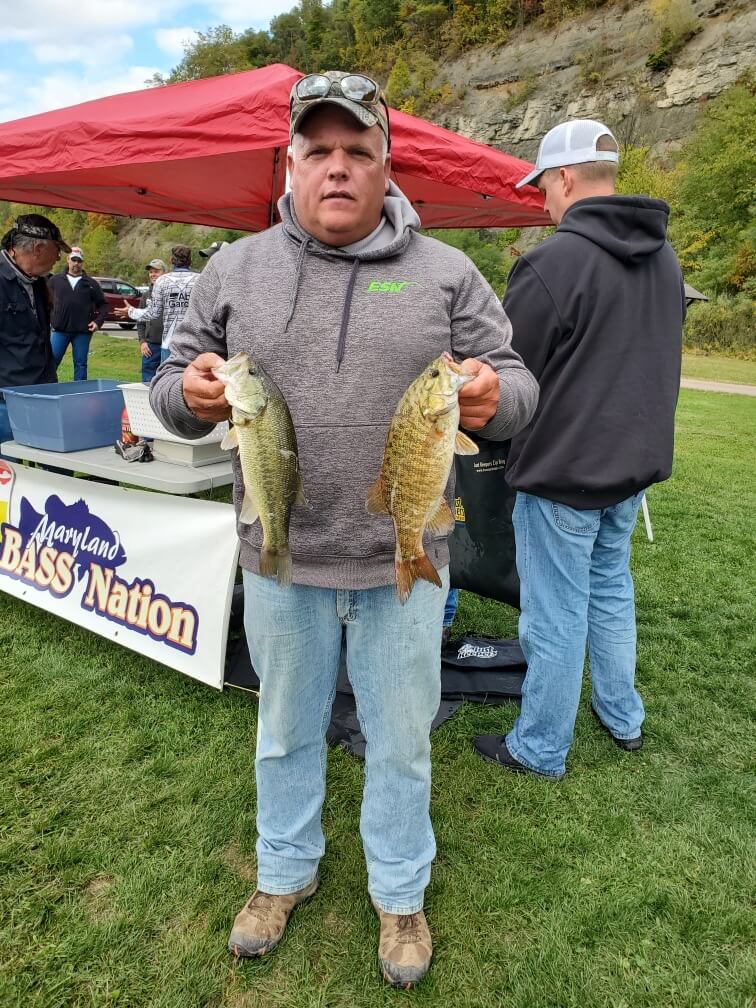 The 3rd SQT Trail Event was held for the first time ever at Youghiogheny Lake in the Western Region. The lake proved to be challenging considering the fact that the lake was very low but, as always there were those who caught them.
Brandon Pyles won the boater side by a good margin with 10.27 lbs. for his best 5 fish limit. Brandon said that he caught his first 2 keeper fish on a top water bait. The rest of Brandon's fish all came on a drop shot fishing a rock pile that he had found days before while pre-fishing. Brandon found the rock pile with his Hummingbird 360 unit. Brandon now has a sizeable lead in the points after the third event and only one more remaining on the schedule. Congrats Brandon on a great season this year and to top it off it was his Birthday the day of this event.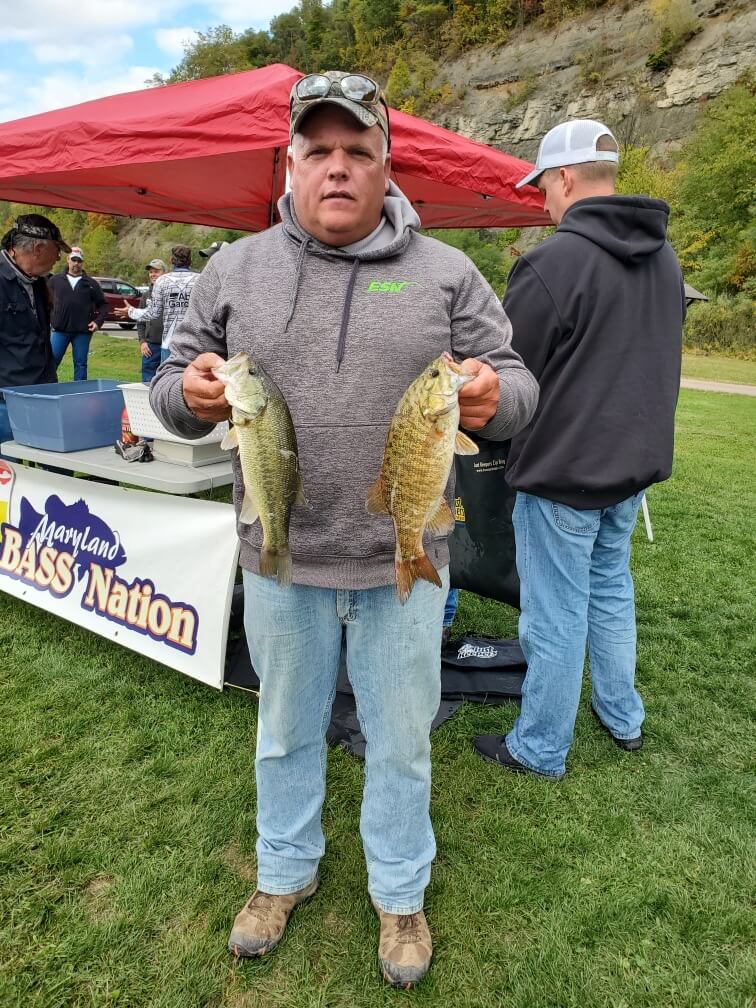 Brett Winegardner finished in second place with 7.69 lbs. for his limit. Brett said that he rarely fishes Youghiogheny Lake even though he only lives about a half hour from the lake. Brett said he caught all his fish on a crankbait fishing banks with certain types of rocky terrain.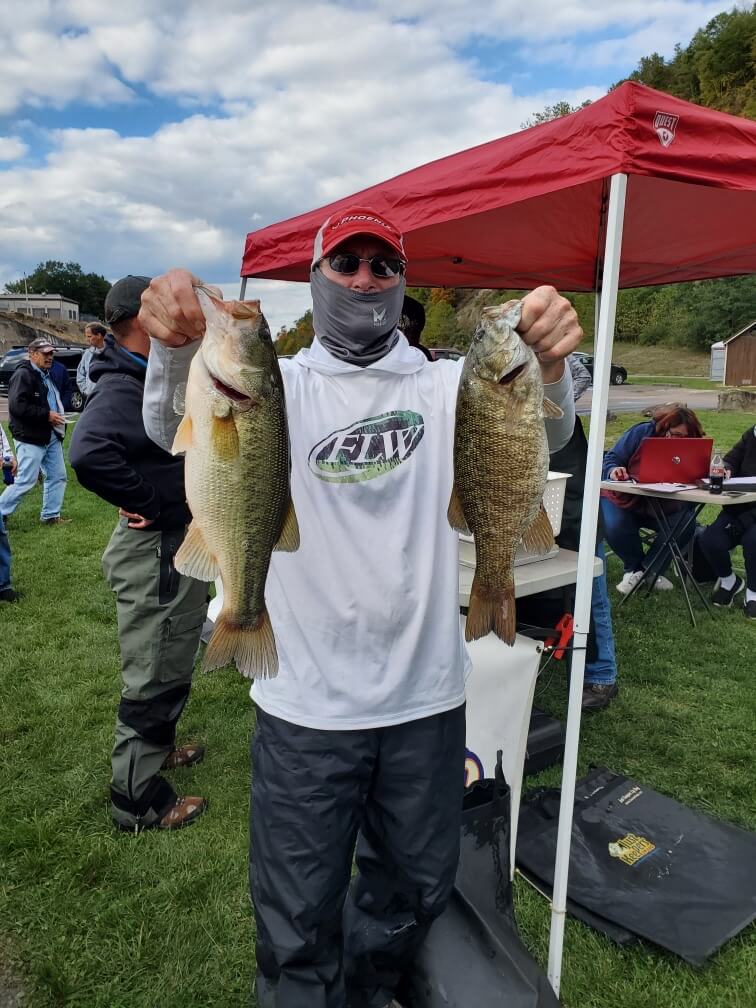 Justin Bronson finished third with 7.15 lbs. Justin said he spent most of his morning fishing a few offshore rocks that he had found halfway down the lake with no luck. Justin's first two keepers came back to back on a steep rock bank near the bridge on a drop shot. His third and biggest keeper came on a transition bank near the ramp on a tube. Justin said he felt that the larger fish were in deep water and the falling water made the fish move around more.
Wendell Potter won the big fish pot with 4.04 pounds on the boater side.
John Redmond won the rider side with 6.15 lbs. including a big fish at 4.03 lbs. Unfortunately, John did not win the big fish pot on the rider side because he did not enter in the big fish contest. John said his boater started fishing in 20 to 30 feet of water and John fished a drop shot but could not get any bites. He said bites were tough to come by all day. Around noon time John flipped a dock and caught a 2 ½ pounder on a 6" Roboworm on a ¼ ounce shakey head. The rest of the day, he and his boater fished wood. John's second keeper of the day was the 4.04 lb. big fish which also came on a shakey head but a different color Roboworm. Congrats on the big fish John. I am sure that made your day.
Tyler Hawthorne finished in second place on the rider side with 4.69 lbs. Tyler said that with the water being so low that it was tough to put a game plan together. He said he had found fish in practice that had moved up on the flats. However, with overcast skies most of the day Friday, it was tough to get the smallmouth to react unless a bait was presented right in front of their face. With the sunny conditions on Saturday Tyler figured they would be off the bottom and more willing to chase a bait. He caught two of his fish on a 3- inch swimbait on a light jig head, casting it to the shoreline and swimming it back through the water column. Tyler's third keeper came on a swing head where there was a dirt bottom with rock mixed in. He said he would drag it along until he felt the rocks and then he would just let it soak. He said he had many bites doing this but, he was only able to connect with one. Tyler said he had a great time and he would not mind coming back again to the Youghiogheny because it was a nice change of pace.
Craig Winegardner finished in third place with 4.60 lbs. Craig said he figured he would have a good day because he was paired with Brian Trieshman. Neither one of them had any experience on the Lake and Craig had not even seen the Lake before the tournament. After hitting bottom and coming very close to the shoreline in the fog, they made it to their first spot. About 20 minutes in, Craig caught his big fish, a 2.95 lb. smallmouth on a whopper plopper. After I got the fish in the boat, Brian asked if I was shaking because I was excited or cold (laughing). A few casts later and I caught my second fish on the same whopper plopper and Brian kept giving me crap for using it because he had a bunch of them and said he hates using them. A short time later, Brett Winegardner came by us and asked how we were doing. When Brian told him that I had 2 and that he had none, Brett replied "what else is new, you're getting your butt kicked!" After that, we struggled to catch fish the rest of the day. Brian managed one fish and we had several other bites but could not hook up with any other fish. All in all, it was a decent day on a new body of water. Brian probably has a much different opinion since he only caught one fish, hit bottom twice and needs a new prop. Craig ended up winning the big fish pot since John Redmond did not enter the big fish contest. This is a great story Craig, sounds like you had a good time.
Thanks again to Cindy and her help for running the tournament. I also want to thank Brian Trischman and Craig Winegardner for helping Cindy with the weigh in. Special thanks also to Don Eney for helping with the weigh in. I would like to thank you Don for also helping Cindy in the morning checking all boats before launch for lights, livewells, etc. The help means a lot and is very much appreciated.
Doug Zittle