Bassmaster Jr. National Championship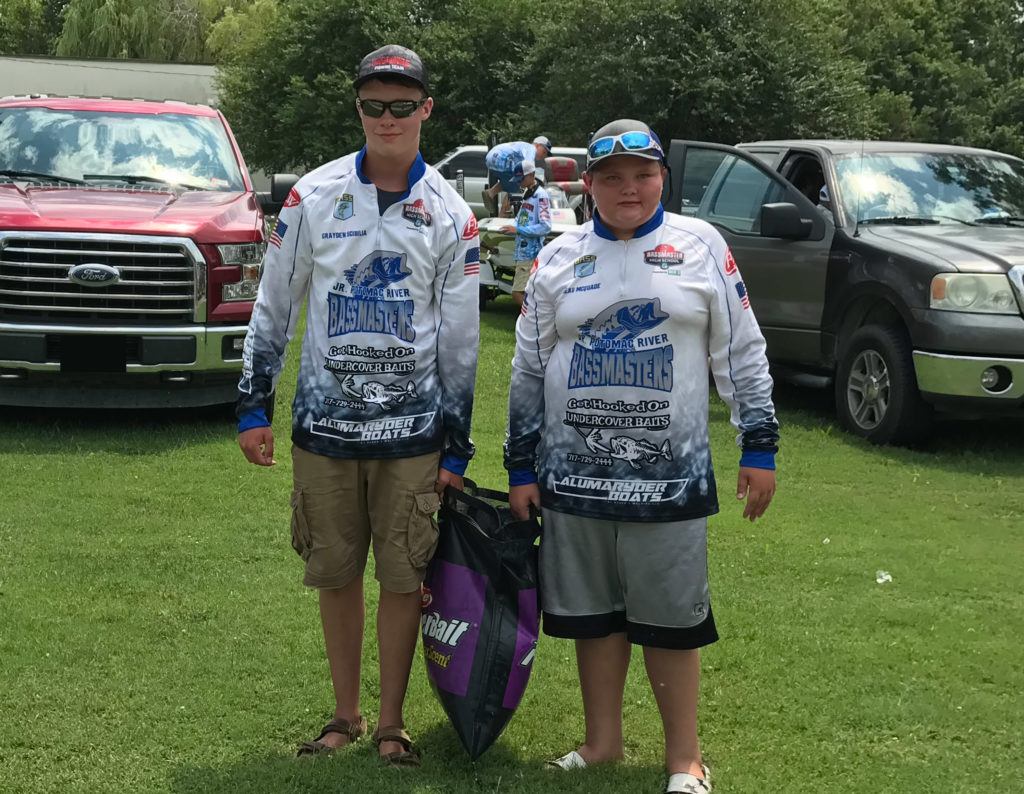 By- Grayden Scibilia
On Saturday, August 3, 2019 I hitched up our freshly polished bass boat to the back of my dad's truck. It was 2:00 am and time for my family to load up and head to Tennessee. I was excited and proud to be representing, Maryland, the state I have lived in my entire life in the National, Jr. Bassmaster Championship. This opportunity came after placing first in the Maryland State Bassmaster Jr, Championship in the Spring of 2019.
My family had been looking forward to this trip for months. It was also serving as our yearly family vacation. Our first stop was to meet up with my fishing partner, Beau McQuade, and his Grandpa Max McQuade. Max is my adopted Grandpa. I first met Beau and Max when I joined the Jr., Potomac Bassmaster Fishing Club and they quickly became part of my chosen family. We were also meeting up with our friends and the second place Maryland state champions Elijah Ambrose and his dad Brad Ryder and C.J. Russler and his dad Charlie. As our journey began, I knew luck was on my side. Grandma McQuade baked us some of her lucky cookies to snack on and when we stopped for gas I found an unclaimed $20.00 bill laying on the ground.
After several hours of driving we passed through Nashville and we dropped my mom and sister off to do some sightseeing. Now it was time to get serious. It was time for my Dad (Al Scibilia), my boat captain, Beau and I to head towards Carroll County 1000 Acre Recreational Lake.
On Sunday, August 4th we had one day of practice. It was intimidating to see all of the other boats. Many that looked newer and shiny than ours. There were many experienced competitors from neighboring states that knew the lake far better than us, but we were ready. We were ready to put on our Maryland jerseys and find the bass. Carroll County 1000 Acre Recreational Lake is a small body of water. There were over 60 other boats and we could see our competitors no matter which direction we looked. It was a hot and humid day. The temperature was 100 degrees, but we managed to find a few good spots that we hoped would produce fish during the tournament.
Next, came registration day. On Monday, August 5th we got up early and drove to Bethel University. You could feel the excitement in the air. We met hundreds of people who were all there to fish including professional angler Randy Howell. Randy signed one of my hats and he was wearing the same sneakers as me. That was pretty cool. We also met several members of the Bethel University Fishing Team. We took pictures with trophies, got lots of free fishing stuff and learned about the rules for the tournament. The night before the tournament I made my final preparations. Making sure my rods, reels and tackle was ready to go. Beau and I talked about our game plan. We talked about our strategy and our boat captain, my dad, talked to us about team work. While the boat batteries were charging overnight I tried to get some sleep so I was ready for the big day.
Finally, it was game day. Tuesday, August 6th was day one of the tournament. We woke up early, hitched up the boat and left the hotel before dark to make sure we were on time. Our boat launch number was 34 and put us right in the middle of pack. Take off was such a cool event. The boat lights were reflecting off the water under the still dark skies. As we took off we hoped our planned first spot wouldn't have another fishing team sitting on it. Luck was on our side and we found our first-choice spot was available. We put down our Minncota Ultrex and hit spot lock. From that moment it was game time. We had our first fish in the boat within 10 minutes. It was a keeper. We threw cast after cast using Carolina rigs and shaky heads until they made us stop for the mandatory 15-minute break. We pulled in quite a few bass and were able to call out the smaller ones throughout the day. At weigh in we had our limit of 5 with for a total weight of 8lbs. 1 oz., but we got penalized four ounces because one fish died. After the penalty our day one total was 7lbs. 13 oz. That weight was good enough to put us in 9th place.
Walking across the stage for weigh in made me feel like a professional angler. I had mixed emotions. I was nervous and proud all at the same time. I knew I had tried my best, but would it be enough? Weigh in was broadcasted on ESPN and Bassmaster Live. Beau and I had the opportunity to thank our families, our club, our sponsors and everyone who helped get us there. That evening we made a quick trip to Memphis, Tennessee to visit Bass Pro Shops Pyramid. It was awesome!
Wednesday, August 7th was day 2 and the final day of the tournament. We knew we had a chance, but we also knew we had our work was cut out for us. This time our spot was getting lots of attention, because they had seen us catching fish the day before. We were able to get a spot close by and we put down the trolling motor and began the grind. We could tell the fish were getting pressured after all the action on the lake. We had good numbers, but lower weights. We ended the day with our 5 fish limit. This time they were all alive weighing 6lbs. 3 oz.
Our two-day total was 14lbs. 0 oz. It was good enough for 10th place in the nation overall. We were proud to bring home the 10th place finish to the state of Maryland.
Thank you to the many people who helped me along the way. Thank you first to my parents, the Jr., Potomac Bassmaster Fishing Club and Maryland B.A.S.S. Thank you to my sponsors STIK-IT Shallow Water Anchors, ALUMARYDER Boats, Double J Twisted Tackle, Koinonia Guide Service, Keystone Sporting Goods, Big Mouth Lures and Undercover Baits. I made memories on this trip that I will remember for a lifetime.